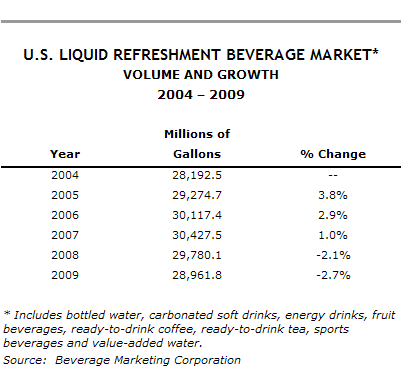 The end of the year data always provides an interesting snapshot of the trials and tribulations of the previous year. For beverages, however, it only tells part of the story.
Beverage Marketing Corporation
just released their year end numbers for 2009, with the headline that consumption declined in 2009 by -3.1%, losing around a nine hundred million gallons from the previous year.
Interestingly they estimate that the top 10 beverage brands (responsible for close to 50% of the market) declined at -4.5%, where the smaller brands declined at -1.7%: They also estimate that Gatorade lost an amazing 100M cases (over 10% of the total loss) declining -15%.
What the data does not reflect is that the price and profitability of the remaining 28.8B gallons. Those metrics are as positive as they have been in a decade.